No Division can function without the expertise of an administrative staff.
Aaron Williams, MHA
Assistant Administrator
As Assistant Administrator for the Division, Aaron manages and leads the financial, human resources, marketing, strategic planning, business development and administrative activities of the Department of Medicine's Division of Rheumatology. Aaron partners with the Division Chief to define and implement the vision for the division, works with faculty and staff to develop and implement new programs, ensures policies and procedures are followed. In addition, this position spans the Rheumatology faculty at The Johns Hopkins Hospital, Johns Hopkins Bayview Medical Center and Good Samaritan Hospital.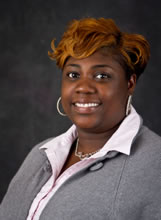 Krystal Burgess
Administrative Assistant
Krystal Burgess is the Administrative Coordinator for the Division. She provides administrative support for divisional activities and human resources functions.
Bonnie Hebden
Research Service Analyst
Bonnie is the Research Service Analyst for the Division of Rheumatology. She manages all grant submissions, including clinical trial and contracts, and is Division's point of contact for pre- and post-award grant submissions. Bonnie also serves as Administrative Assistant to the Director of the Arthritis Center.
Jolene Patey
Administrative Assistant to Di
Jolene is the Administrative Assistant to the Division Director, Dr. Antony Rosen.