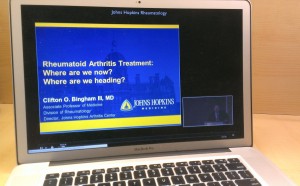 This year we are excited to offer the opportunity to attend the Rheumatic Diseases course online. What does this mean? Simply put, you'll be able to fully participate in our course from anywhere in the world. All you'll need is a computer and a broadband internet connection.
Our online option will include live video streaming of each lecture, panel discussion and case presentation. Attendees will have the ability to:
Watch any LIVE Session
Participate in conference discussions by asking questions
Catch up on missed sessions or re-watch your favorite sessions
We recognize the cost of attending a face-to-face meeting can be costly and time consuming. That's why we're so excited to now offer a live stream option!
To receive credit for attending the event, participants will be required to submit their evaluation and post-test by COB on April 12, 2014.  Mechanisms will also be in place to verify attendance.  There are no pre-requisites to attend.
In the event of technical difficulties, the activity will be available immediately after the live sessions.
Viewing Requirements
Windows
Microsoft Windows Server 2008 (requires the Desktop Experience), Windows 8, Windows 7, Windows Vista, Windows XP, Windows Server 2003
Microsoft Internet Explorer 7.0 or later, Firefox 3.6 or later, or Google Chrome
Windows Media Player 9.0 or later
Microsoft Silverlight 5.0 or later (viewers are prompted to install this when attempting to view a presentation)
Broadband Internet connection
Mac
Mac OS X 10.5.7 or later
Safari 4.0 or later or Firefox 3.6 or later
Microsoft Silverlight 5.0 or later (viewers are prompted to install this when attempting to view a presentation)
Broadband Internet connection