IRB: NA_00069554
Purpose of Study: This is a longitudinal, observational study of individuals with vasculitis. Our objective is to improve knowledge about the etiology and risk factors for vasculitis. We will also be studying the effects of treatment on vasculitis. Participants in this study will be asked to complete forms about their medical condition and how it has affected them. The research study visits happen at the same time as scheduled clinic visits. In addition, participants will be asked to provide urine and blood samples. We are currently recruiting new volunteers for this study.
Eligibility Criteria:
Ages 18 and older
Receiving clinical care from a Johns Hopkins rheumatologist
Provisional diagnosis of or meets the American College of Rheumatology criteria for any of the forms of Vasculitis (e.g. Behcet's Vasculitis, Wegener's Granulomatosis, Giant Cell Arteritis).
Exclusion Criteria:
Unable or unwilling to provide written informed consent
Unable or unwilling to read English and complete forms/questionnaires
Study Status:
Recruiting
Coordinator/Contact:
Principal Investigator: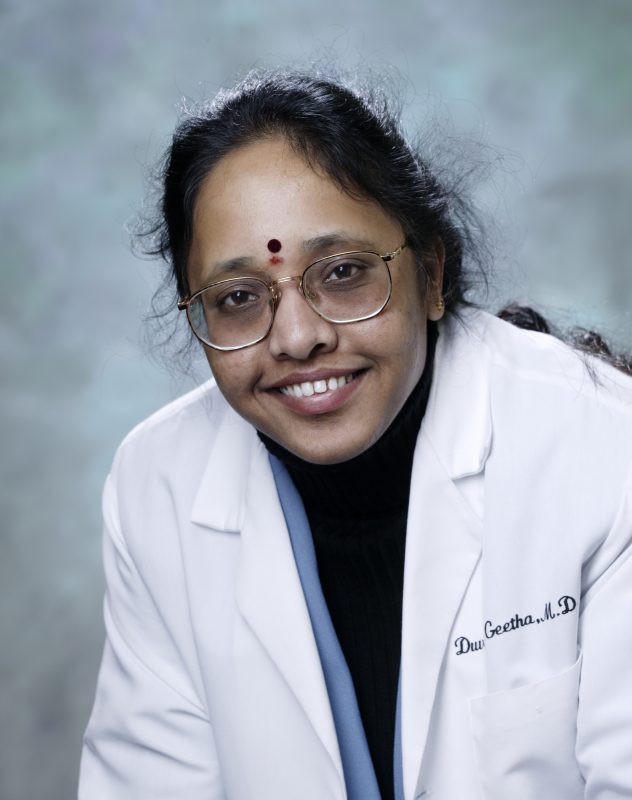 Duvuru Geetha, M.B.B.S., MD
Associate Professor of Medicine
Dr. Geetha's clinical interests include renal disease in vasculitis patients with a focus on ANCA associated vasculitis and Henoch-Schonlein Purpura. She does clinical and translational research in vasculitis with a focus on ANCA associated vasculitis and renal disease.